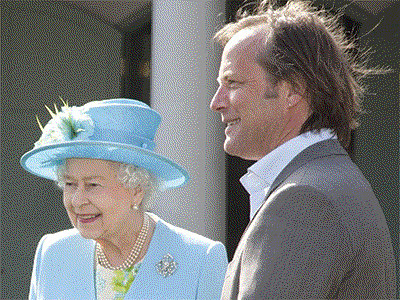 In conversation with Her Majesty The Queen at the unveiling of my work at Valentine's Mansion, Ilford during the Queens diamond jubilee tour.
My personal interest relates to the layers of life and experience that makes each of us who we are. We typically show the outside layer of our being which, although it may bear some of the physical signs of things we have experienced, will not reveal how we felt about the ways in which we have experienced 'being'.
The same thing can be experienced by different people in different ways. So it is the suggestion of what happens inside that interests me.
I approach my work exploring the ways in which I can reflect these ideas. I have come to making most of my work in layers. I want my work to change as the angle of view changes, and as the context that they are placed in changes, in the same way that we can change according to our state of mind, and who we are with.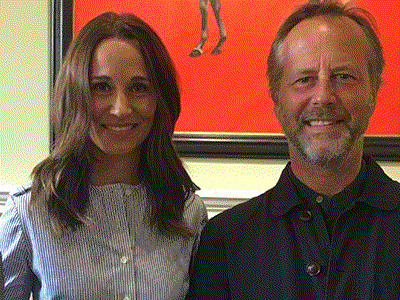 With Pippa Middleton, ambassador for the Mary Hare school, at their charity art auction in 2019
My Materials
I currently work mainly in copper and stainless steel. Each has very particular qualities that they bring to my sculpture.
Copper is one of the few metals that can occur in nature in its native metallic form. The oldest copper ornament identified to date was found at an archaeological site in Northern Iraq, and dates to around 8700BC. Over the millennia, copper has been used in a huge variety of applications: jewellery, weapons, objects of worship, telecommunications, musical instruments, machinery to name a few.
Copper is the third most recycled metal, after iron and aluminium. It is estimated that 80% of all copper ever mined is still in use today.
In alchemy, the symbol for copper was also the symbol for the goddess and planet Venus:
It has high electrical and thermal conductivity, which actually makes it very challenging to weld, but the results are spectacular, and it becomes more beautiful as it ages.
Tom installing his copper Drinking Horse II at Newbury Racecourse 2017.
Stainless steel is a much more recent invention which followed a series of scientific developments starting in 1798 which went on to show chromium's resistance to strong acids. The metal was later marketed under the "Staybrite" brand in England and was used for the new entrance canopy for the Savoy Hotel in London in 1929.
Like copper, stainless steel is 100% recyclable. An average stainless steel object is composed of about 60% recycled material of which approximately 40% originates from end-of-life products, while the remaining 60% comes from manufacturing processes.
I work with Stainless 316, which is sometimes known as marine grade because of its particular resistance to corrosion and rust.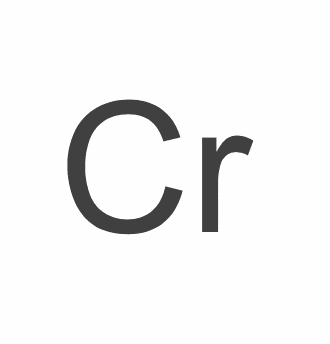 Stainless steel doesn't have a beautiful symbol like copper but this is the symbol for Chromium – which is what makes it stainless.
The materials are important to my work, and the physicality of the making process also brings its own resonances. I use 3D scanning; computers and laser cutting among the tools of my trade, alongside the more traditional sculpting disciplines of sculpting in wax; welding and polishing.
My Background
I spent the first few years of my work life with racehorses – as stable lad; assistant trainer and jockey, working in the UK; Ireland; Australia and the USA.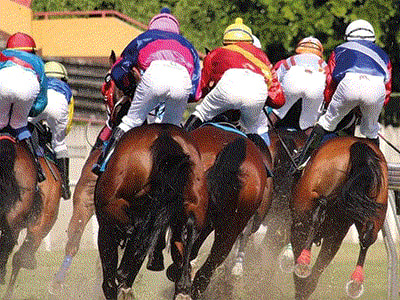 When I chose art as my career path, I studied initially at The Slade summer school, and then at The Cambridge Art School (BA Hons Fine Art), where I achieved a first class degree, and was awarded the Fine Art Prize in my year group for my degree show.
My work has since been exhibited in solo and shared exhibitions across the UK and Europe, and appears in private and public collections across the UK, Europe, America, Australia and Saudi Arabia.